As her winter 2017 residency comes to a close, interdisciplinary artist Fumi Amano will share about her inspirations, her work during her studies at VCU, and her time at the Torpedo Factory Art Center.
Join us on Friday December 15th to view her latest works up close and experience an original performance by Fumi at 7pm. Then come back at 8:30pm for a half-hour conversation in her studio space on the 1st floor. Part of an evening of artists talks and receptions for our Late Shift: STEAM-Powered December, 7pm – 11pm.
The building will stay open until 11pm, with three floors of art, music, and hands-on projects to explore.
Performance in Studio: 7pm
Open Studio: 8pm – 8:30pm, 9pm – 10pm
Artist Talk: 8:30pm – 9pm
About Fumi Amano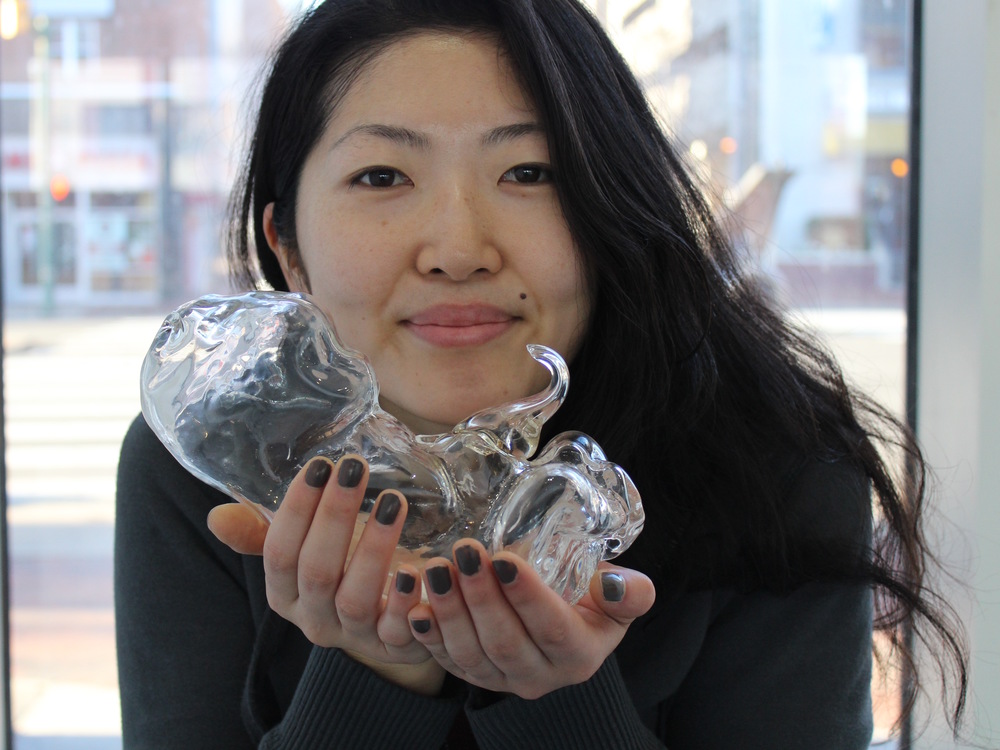 A native of Aichi, Japan, Fumi Amano seeks to do new and creative things with glass and demonstrate new possibilities within the medium. Amano entered graduate school to expand her expertise with glass as a medium, but her work shifted more into the conceptual space as she began using her art as a primary means to express her emotions, given English is her second language. Her work is inspired by her strong desire for intimacy as well as a deep sense of loneliness. She is obsessed with communicating with others and creates work that elicits visceral, gut emotions in her audience. Amano's work Look at Me was featured in the Target Gallery group exhibition Please Touch in June 2016. Viewers were invited to lick the frosted glass pane to reveal themselves to a person on the opposite side.
During her residency, Amano hopes to collaborate with local artists to integrate into her glass house project, in which she hosts performances in a house she creates from reclaimed window frames. Through her work, she also hopes to address some of the gender and racial stereotypes that she's encountered as a Japanese woman in America.
Amano completed her undergraduate studies in art education at the University of Education in Aichi before refining studies of her medium at Toyama Institute of Glass Art in Toyama, Japan, and at Pilchuck Glass School in Stanwood, Washington. Amano has won several awards including best student work at Niijima Glass Art Festival in Tokyo and also at Pilchuck Glass School. Her work was selected at the International Exhibition of Glass in Kanazawa, Japan; the Contemporary Glass Triennial in Toyama, Japan; and the Itami Craft Triennial in Osaka, Japan. She has shown her work in group and solo exhibitions in both the U.S. and Japan. She completed a master's of fine arts program at Virginia Commonwealth University in spring 2017.