This Valentine's Day, include the Art Center in your evening plans!
Start with Target Gallery's reception for My Queer Valentine, a playful but poignant show exploring non-heteronormative relationships with a juror and gallery talk with exhibition juror Andy Johnson and participating artists. Stay to enjoy an evening of interactive performance art, a photo op at our kissing booth by exhibiting artist Linda Hesh, DIY art-making activities in the grand hall. Learn more about and support local LGBTQ+ organizations, too.
Free, but RSVP requested.
RSVP Now
In the Gallery: 
7- 10pm – photo-op at participating artist, Linda Hesh's Kissing Booth.
8pm – Juror and gallery talk with exhibition juror Andy Johnson and participating artists.

In The Grand Hall:
Instigating Bliss: Infinite Love
Performance & Video by Jessica Kallista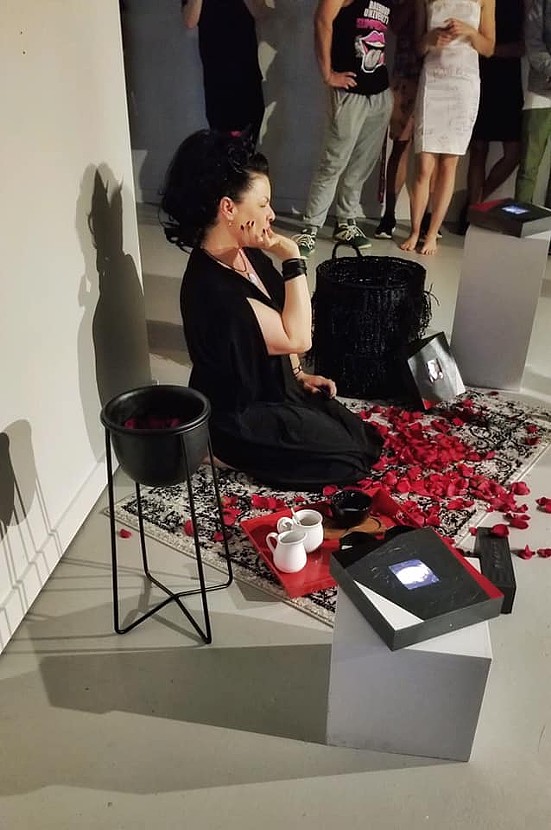 "The sharing of joy, whether physical, emotional, psychic, or intellectual, forms a bridge between the sharers which can be the basis for understanding much of what is not shared between them, and lessens the threat of their difference."
—Audre Lorde
"Prioritizing ourselves in love is a political strategy, is survival."
—Adrienne Maree Brown
Love and Bliss are revolutionary acts. We must lay claim to the everyday moments of our lives and demand that they are filled with Love and Bliss.
Rooted in the belief that what we practice we become, Jessica Kallista's Instigating Bliss: Infinite Love disrupts the passive nihilism intrinsic in many of our everyday lives by countering with the intentional, active, manifestation-oriented pursuit of revolutionary everyday Love and Bliss through meditation and play. She counters with consensual touch, books, sweetness, music, light, flowers, laughter, community, luxury, comfort, pleasure, eroticism, feeling, and sensuousness.
Love sometimes requires only the most minimal of interventions in order to dissolve our mindless programming and help us engage with the gorgeous reality of our interconnectedness and our connectedness to our erotic selves. Jessica invites you to participate with her in her Everyday Love and Bliss Meditation. As a Valentine gift to yourself, love, laugh, taste, touch, dance, play. Slow down. Rest. Acknowledge and embrace the power of your sensual and feeling self.
Tiny Queer Zines by Kim Sandara
2019 Post-Grad Resident Kim Sandara will be displaying and selling her Tiny Queer Zines. Which was a collaborative project done during her residency at the Torpedo Factory Art Center summer . The project was inspired by the kids who would come into her studio and come out to her after reading about Origins of Kin and Kang, the graphic novel she working on my coming out story. She collected anonymous stories from the DMV area from people in the LGBTQ+ community and allies, all centering queer stories/personal experiences. Then she paired the stories randomly to LGBTQ+ and ally artists who were interested in illustrating one. The goal of this project was to bring people together, destigmatize queerness and make queer stories accessible. The final product ended up being dynamic in variation of stories and illustration styles. The zine printing was also fundraised for so that people may purchase them by a donation-basis with a $5.00 minimum.